The Dumas Business Park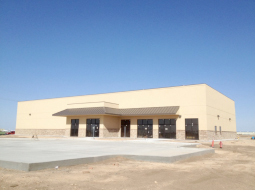 Located along U.S. Highway 287, the Ports to Plains International Trade Corridor, the Dumas Business Park is comprised of 265 acres of real estate. With concrete roads, full underground utilities and excellent exposure, the Business Park can provide lots that range in size from 1 acre to 75 acres or more! Two new commercial speculative centers have individual units available for lease and a new Career & Technical Training Center is available to help with your employee training needs. Amarillo College-Moore County Campus can help customize your training programs and help provide a skilled workforce. The Dumas EDC is willing to consider incentives to help you locate in the park by deeding acreage, providing infrastructure assistance, assisting in a build to suit or lease back arrangement or any other arrangements!
Need time to insure a Dumas location will provide the savings and revenues you need to make us a permanent location? We offer a no or low lease arrangement to "test the waters" in exchange for your serious consideration! By establishing a temporary location at very little cost in one of our existing leasing units, your firms can better examine the pros and cons before committing substantial investment. We trust that a Dumas location will prove to be beneficial so much so, that we are willing to consider discounting your lease to prove it!
Take a look at our Business Park files and photos and let us know which lot or location you would like to consider today!
Current Tenants
Equipment Supply Company, Inc.: Equipment Supply Company received an incentive to build there 20,000 SF facility in 2010
North Plains Opportunity Center: Located on the east side of the park, NPOC Purchased the Dumas EDC building in 2012
Amarillo College-Moore County Technical Training Center: ACMCC located there new 30,000 SF facility in the park in 2012 to expand on our local workforce training programs and support our local industries with technical skills development.
Blue Knight Energy Partners: Located on the northern edge of the park, Blue Knight operates a crude oil transportation terminal.
Texas Department of Transportation: Located at the northeast corner of the park, TxDOT located their newest District Office in Dumas.
Life's Abundance:
Growers:
Single Phase Power Solutions: Manufacturer of the world's only 100HP single phase electric motor.
Texas Department of Family and Protective Services
Moore County Appraisal District
Specialized Dairy Services: Manufacturer and provider of dairy and cattle products, equipment and supplies
Frito Lay Area Distribution Center
Elliott Electric Supply: Industrial supplies and distributor
Better Harvest: Provider of Agri-Business Services
Dumas EDC Office & Incubator Center